Silky touch titanium dioxide ST-700 series

Silky Touch Titanium Dioxide ST-700 Series
Silky Touch Titanium Dioxide ST-700 Series properties
These are large titanium dioxide granules composed of fine rutile particles aggregated together.
They are extremely smooth and frictionless to the touch.
They have moderate concealing capabilities.
They are capable of UV shielding.
A variety of products with different granule sizes are available. (0.3, 0.5, and 1.0 μm)
SPF can be increased in combination with a UV-absorbing agent (booster effect).
Coefficient of friction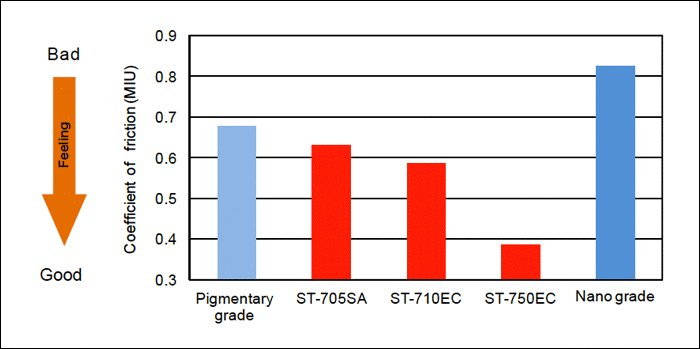 Grade
Note:
*These measurement examples should not be regarded as specification values.
Grade
ST-705SA
ST-710EC
ST-750EC
Particle size (μm)
0.25
0.3
1.0
Aluminum hydroxide (wt%)
10.0〜14.0
8.0〜12.0
Stearic acid (wt%)
3.0〜5.0
-
Hydrogen dimethicone (wt%)
-
1.0〜5.0
ST-705SA red-light-permeable titanium oxide

UV shielding
After coating Transpore surgical tape with water-soluble liquid foundation, 2 mg per cm², we took measurements using a UV-1000S SPF analyzer manufactured by Labsphere.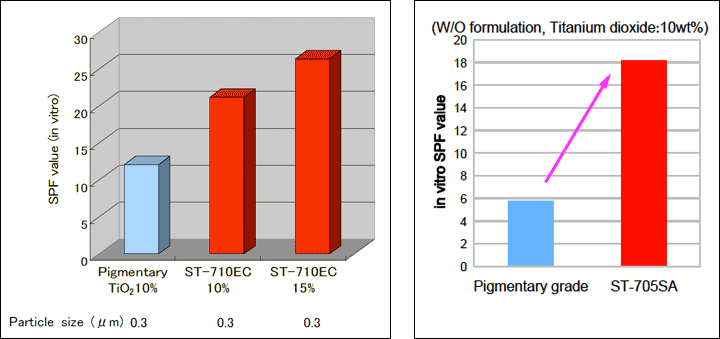 Electron microscope photographs (SEM)
*These data values should not be regarded as specification values. Additionally, the information provided is subject to change without notice due to performance improvements, specification changes, and other reason.
*Before using these products, be sure to test them in advance at your company in order to check if they conform to your usage purposes.
Also note that the applications featured here are not guaranteed to be free of infringement upon any and all patents.
Click here to contact us regarding our products.