Message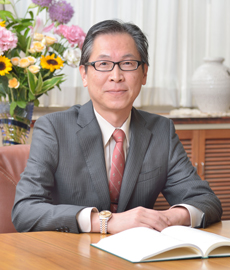 We Want to Be a "Dream Materials Company" That Continues Providing Materials That Meet Society's Needs
Our company was established in 1936 for the purpose of achieving domestic production of titanium dioxide. Two years later, in 1938, we became the first company in Japan to begin manufacturing titanium dioxide.
Later, in 1965, we also began manufacturing synthetic iron oxide in order to take advantage of the iron sulfate produced as a by-product.
Both titanium dioxide and iron oxide were initially produced using foreign technology that we adopted. Both substances were mainly used as coloring materials for paints and similar products, thanks to the inherent stability and concealing properties of those two substances.
After that, we worked relentlessly to improve our products through research and development, and we made full use of the techniques we had developed through experience. Thus, we successfully developed materials that met society's needs according to the changing times, including electronic components, magnetic recording materials, toner, and cosmetics.
Furthermore, we succeeded at developing conductive materials and inorganic composite materials as titanium dioxide-related products, and the applications for these materials continue to expand today, with examples that include antistatic materials and batteries.
In recent years, through our fine particulate techniques, particle shape control, and surface processing technology in the case of titanium dioxide, and through our technology for high purity levels that we believe sets the world's highest standard in the case of iron oxide, we have successfully developed materials that are widely used in cosmetics and have improved our sales performance as a result.
Today, political and economic changes and technological innovation are taking place at speeds faster than ever before, but we will continue to combine our company's technologies and bring together the capabilities of our executives and all company employees in order to be a "dream materials company" that continues to provide materials that meet society's needs.
Yasuo Inoue
President